Trust Your Smile With Beverly Hills Premier Cosmetic Dentist and Natural Looking Veneer Specialist
Neil N. Hadaegh, DDS, Beverly Hills Cosmetic Dentist
We've all understood for a long time that a healthy, bright, beautiful smile enhances our appearance and allows us to speak and smile with confidence. Sadly, many of us also know that defects in our smile can cause us to cover our mouth with our hands, or worse, smile less often.
Today, thanks to the advances in modern cosmetic dentistry, nobody has to hide a flawed smile. By using the latest techniques and technology in Cosmetic Dentistry, Dr. Hadaegh is able to provide his patients with the life-changing smile makeover that they've always dreamt of
---
Why Choose Veneers?
Veneers can fix all of the elements of your smile that keep you from looking and feeling your very best:
Change the size, shape, and alignment of certain teeth.
Fill in unattractive spaces between teeth.
Improve or correct bites.
Lighten or brighten the color of teeth.
Repair decayed, broken, cracked, or chipped teeth.
Replace missing teeth.
Replace old, unattractive dental treatments.
Technology plays a big part in Dr. Hadaegh's personal creation of your customized Smile Makeover. He combines his artistic talent with an eye for detailin creating a unique smile design that is highly customized based off the individual patient's needs, facial proportions and features that would result in the most ideal, natural smile. By having his own master ceramist by his side, Dr. Hadaegh evaluates each individual case from design to the fabrication of each individual hand crafted porcelain veneer to ensure that the patient is completely satisfied. Dr. Hadaegh will not cement any veneers until the patient sees the final veneers in place and gives their approval to ensure total satisfaction.
---
Veneers by Dr. Hadaegh
During a personalized veneer consultation, Dr. Hadaegh will do a thorough examination and put together a personalized treatment plan that will cover the steps of the Smile Makeover process :
Photographs and Molds to create the Smile Design
Minimal Tooth Preparation and Placement of Temporary Veneers Based off Smile Design.
1-3 Day Follow Up to review Smile Design, Photos of the patient in their Customized Smile Design to determine if any changes need to be made and to receive feedback from Patient.
Delivery and Cementation of the Final Veneers
---
Dr. Hadaegh – A Real Artist in Cosmetic Dentistry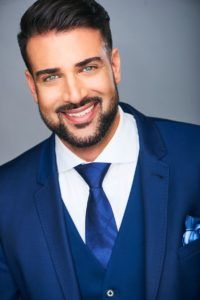 Dr. Hadaegh considers cosmetic dentistry an art. Each and every patient he receives is carefully evaluated and reviewed before any recommendations are made. The goal is always the same however: to improve the look and feel of your smile. When this occurs, you begin to feel empowered in ways you have not imagined before. It's a personal transformation and it's truly amazing.
Ready to begin your path to a new you? Contact our office @ (310) 659-5399 or fill out our convenient form to the right to schedule your personalized consultation with Dr. Hadaegh.