What is Tooth Reshaping?
Also known as contouring, reshaping is a procedure Dr. Hadaegh uses to correct minor tooth flaws including slightly crooked teeth, overlapping teeth and chipped teeth. It can even be used as a substitute for braces or to address minor bite issues.
For minor adjustments, Dr. Hadaegh typically combines tooth reshaping with bonding or porcelain veneers to achieve the most beautiful results. Essentially, he combines just a few millimeters of reduction with an equally precise amount of laminate to successfully resolve issues.
This type of tooth sculpting is a safe, inexpensive, and conservative way to improve your smile.
Tooth reshaping is also integrated with nearly all of Dr. Hadaegh's cosmetic procedures as another of his finely detailed 'finishing touches' used to create his unique Signature Smiles.
---
Tooth reshaping is best used for:
Minor chips.
Crooked teeth.
Cracked or broken teeth.
Overlapping teeth.
Bite Issues.
It bears repeating that such tooth reshaping is best reserved for smaller tooth issues. Dr. Hadaegh won't ever remove large amounts of enamel as this can weaken teeth.
---
Cosmetic Tooth Reshaping Before & After

Dr. Hadaegh carefully changed this gentleman's smile using cosmetic tooth reshaping combined with composite veneers for a GREAT smile!
---
Tooth Reshaping – What to Expect
Dr. Hadaegh will review your case and use digital x-rays to confirm the tooth is a good candidate for resculpting. Once that is determined, he will review the images with you, make recommendations, and possibly even use computer imaging to provide you with a preview of the procedure results.
Once your treatment plan is finalized, Dr. Hadaegh will use his low-vibration gentle dental tools to sculpt your improved smile.
If he is combining bonding with your treatment, he will apply a thin coating of a plastic material on the front surface of your teeth. Next he applies a bonding material. Then he sculpts, colors and shapes it to create a fabulous natural look. He uses a high-intensity light to harden the plastic, and then polishes the final surface.
---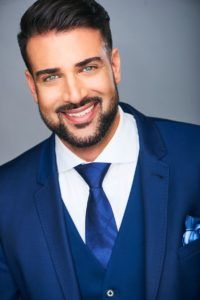 Interested in improving your smile? Consult with Dr. Hadaegh today in order to discuss tooth reshaping costs & pricing. This procedure is generally inexpensive and costs depend on each tooth and how much work will be required to enhance its appearance. Dr. Hadaegh can be reached online using our form or at his office @ 310.659. 5399.