Have a gummy smile? Most everyone has issues with their smile that they'd like to correct whether it be a whiter, brighter smile, a straighter, more aligned smile or a smile that does not show a large amount of our gums. Today, advancements in dentistry have led to the capability to improve almost any dental issue, including gummy smiles.
Many people have come to accept their gummy smile. Those who have not often bear great shame and disappointment. If this describes your scenario, then it's time to take action and consider gummy smile surgery today, personally offered by Dr. Hadaegh.
View Celebrities with Gummy Smiles
---
Causes of Gummy Smiles
Gummy smiles are caused by an assortment of various issues with both your teeth and gums:
Size and shape of teeth
Amount of gum tissue displayed
Length of upper lip
Position of the upper jaw in relationship to the skull
Your gum tissue is like a frame that provides form and shape to the top of your tooth. If too much gum shows when you smile, we face the dreaded "gummy smile." This may have been a condition you've always had, or it may be one that develops with age, also known as becoming 'long in the tooth.' In a third scenario, you might even be experiencing loss of gum tissue due to dental disease.
---
Address Your Gummy Smile Today!
Dr. Hadaegh can address these issues and restore – or create – a healthy, beautiful smile using a variety of different cosmetic dental procedures:
Gum Contouring
Porcelain Veneers
Crown Lengthening
Tissue Reduction
You will not know what procedures are best for your gummy smile correction until you meet Dr. Hadaegh during a personalized consultation to discuss your options.
View Dr. Hadaegh's Smile Gallery
---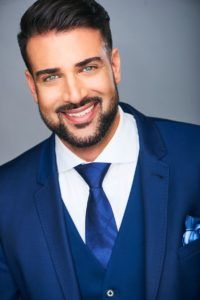 Known as an artist of dentistry, Dr. Hadaegh approaches every individual with one goal in mind: to have you walk out of his office with a brand new smile you can be proud of.
If you are interested in Dr. Hadaegh's gummy smile correction services, then please call our office @ (310) 659-5399 or conveniently contact us online and we will respond at our earliest availability.