"Secret VIP Miracle" – A Smile You Never Have To Feel Embarrassed About!
Dr. Hadaegh – Experienced Veneers Dentist in Beverly Hills
---
Introducing Porcelain Veneers: A durable, long-lasting cosmetic dentistry miracle Dr. Hadaegh uses to create beautiful Signature Smiles in Beverly Hills.
In a relatively short amount of time, without the need for extreme tooth preparation, Dr. Hadaegh can create a new more pleasing smile. This is especially good for people with worn or miss positioned front teeth. Porcelain Veneers, also known as Laminates, may be used to change the color as well as the shape and position of your teeth. Dr. Hadaegh is an experienced cosmetic dentist specializing in Aesthetic Dentistry. He combines his artistic dental design abilities with the talents of his highly gifted technician to create a uniquely beautiful Signature Smile for each of his valued patients.
---
Dr. Hadaegh's Personalized Attention for Detail
Before beginning this treatment, Dr. Hadaegh works with photographs and studies models of your current smile to create a one-of-a-kind design proposal of your spectacular new look. You'll be able to preview your beautiful new smile in a photograph of you that incorporates the final result! Yes, you'll be given a fantastic full color photograph of you with your new smile, all courtesy of Dr. Hadaegh's technological expertise.
Once you and he have approved a final smile treatment incorporating your new porcelain veneers, the beautiful final result can be accomplished in as little as one week.
---
The Process:
Preparation
It's generally necessary to prepare the teeth by removing a thin layer in order to make room for your new porcelain veneers. Although some techniques claim not to need this preparation, be wary. As you can imagine, without making room for a new layer, you could end up with that bulky unnatural-looking result.
Preview
After the veneers have been fabricated, Dr. Hadaegh will test them on your teeth to check their form and color. You will appreciate his careful attention to detail as he makes final adjustments.
Perfection!
Once a perfectly beautiful result has been achieved, Dr. Hadaegh carefully applies bonding material to the teeth and places the veneers in the mouth.
---
Benefits of Porcelain Veneers
Remain attractive & functional in the mouth for up to 15 years, with an average of 10 years
Stain resistant
Made from very strong, durable material
Veneers are semi-translucent – meaning they help give off the healthy sheen you see when light reflects
Dramatic effect on self-esteem, often turning into increased confidence.
Increased drive to maintain excellent oral hygiene (most people do not want to lose their beautiful smile once they obtain it!)
Leave a large majority of your teeth intact
---
Porcelain Veneers Before & After Photos
They always say "seeing is believing", which is why we would like to showcase a few of Dr. Hadaegh's own patients who have opted for porcelain veneers. The change is night and day! Truth is, our patients have a very hard time believing it's really them in the mirror.
Case 1

Case 2

The entire before & after gallery may be viewed here.
---
Let Dr. Hadaegh Transform Your Smile Today!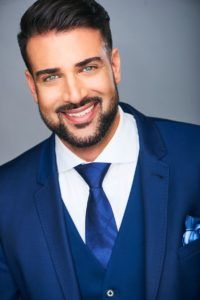 Your choice to improve your looks – and your outlook – with cosmetic dentistry will be a daily, bright, happy reminder of one of the best gifts you ever gave yourself! Let Dr. Hadaegh help you achieve the smile of your dreams (literally!). His attention to detail, calm bedside manner, and passion for dentistry make him one of the best cosmetic dentists for veneers in Beverly Hills. If you have any questions regarding porcelain veneers including the cost of porcelain veneers in Beverly Hills, then please call our office @ (310) 659-5399 or contact us online.